Brows shaded from light to dark. These can made to look natural or dramatic based on preference. You can achieve the make up look with this method. No hair strokes are added when doing this method.
I had a Signature Brow Service treatment with Carmen and everything was impeccable. I can't say enough good things about this place. The salon was totally spotless, well organized, & well lit. Carmen listened patiently to all of my concerns about my "difficult" skin and assured me she would do her best to work through it all. She didn't argue with me at all when I asked her to use dark, bold pigment even though it would contrast my blonde hair. She blew my expectations out of the water. The artist I was using previously left me with scar tissue, green pigment, and blood would practically spurt during the appointment. She'd tell me it was all because I had troublesome skin… Carmen was able to lift the green out after taking the time to meticulously map my crooked, bad eyebrows, and expertly managed the scar tissue left by my previous work. The whole procedure was gentle and painless, I didn't bleed at all..... (see next)
Melissa Richiee
She talked me through everything she did and never got annoyed with my nervous small talk, she even shared recommendations for a delicious food place in the area. She asked me repeatedly through the appointment if I was doing alright and if there was any pain. I have one eyebrow that raises like the Rock back in the day, Carmen worked extra hard to make the other brow match my aggressively raised single eyebrow. They're both perfectly symmetrical and the shape is gorgeous. She made sure to explain the after care very thoroughly several times and ensured that I understand what will be required during the healing process. I couldn't be happier with her work, she's truly a magician and I recommend this salon as well as Carmen's services for anyone who's looking for a professional, trustworthy PMU artist/salon.
Melissa Richiee
I love LOVE my new eyebrows. Mish is amazing and wonderful. She really knows what she is doing!! I highly recommend coming here. They are very professional and I have enjoyed my experience so far.
Marlene Garcia
I got my brows done by Mish,and I must say I'm Highly!!!! Please she did an amazing job once again,may I also add that I got my lip l blush done by yuilla and she also did an an amazing job.I strongly recommend anyone to visit Mish.aesthetics their the best and well worth it.👏👏😃 I'm a happy customer.
Kareen Grant
Mish did an absolutely amazing job on my brows! I had no hair before and now I have nice full brows that I LOVE! I highly recommend her and anyone on her team!
Rox Tran
Ombre Brow Pricing
Artist Neona: $350
Senior Artist Carmen: $650
Master Artist Mish:$850
Does this Procedure Hurt?
Numbing Cream is used throughout the process to keep the session comfortable.
After the first session brows have a nice shape and tint. We recommend an initial session and the 6-12 week touchup to complete your brows! After this touchups are usually needed anywhere from 1-3 years depending on how dark your like to keep your brows.
We offer a range of any color to match your brow hairs. Whether you are a blonde or brunette. We choose the color with you so you are comfortable with the results.
What happens if I have previous work?



Please text us a photo to 718-962-0625 or email us at info@mishaesthetics.com for approval before booking! The ombré  brow service can be done on brows with previous work as long as your brows are faded enough
What is the difference between ombré and the signature brow?
Ombré brows only incorporate shading from light fronts to defined ends. This is great for really oily skin. The signature brow incorporates hair strokes as well as shading. If you are interested in both you are able to switch services when you arrive for your appointment since both are the same price.
Click here to find out more about our SIGNATURE BROW which inlcludes both hairstrokes and shading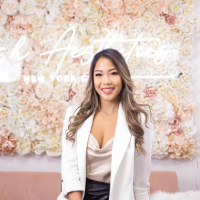 Master Permanent Makeup Artist,
Owner of Mish Aesthetics and Educator
Pricing: $850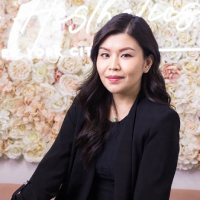 Senior Permanent Makeup Artist
& Technical Trainer 
Pricing: $650